Tandem Skydiving
Tandem skydiving is a kind of skydiving where a student skydiver is attached to a tandem instructor. The student is informed with very basic instructions and the tandem instructor is responsible for all the actions like deploying and piloting the canopy and landing. This post is not a professional guide to anyone. It is only my first skydiving experience from 2012. This could help first timers to know what they will face when they want to skydive.
First of all, skydiving was just a dream to us. We didn't know how we could do this extreme sport and if we could get over the fear. When this idea spread among our friends, we started to search on how and where we could do it. At the end, we found out that anyone within the weight/height limit and health conditions can pay and skydive easily. There were a few skydiving places around Wildwood and the closest one we could find was in Williamstown, NJ. After agreeing on where and when we will go skydiving, we arranged our day offs.  One of our friends got a permission only until 5 pm. So, we had to finish everything and be back in Wildwood before 5 pm. We booked our skydiving packages from Freefall Adventures online.
On August 21st, 2012 we got up early and hit the road to Williamstown with the car we rented. It took about 1,5 hours and a short wawa stop to get to the Cross Keys Airport. After we arrived to their office and confirmed our skydiving bookings, we watched a video about skydiving. We were informed about how skydiving is full of adrenalin but also a very risky sport. If anything goes wrong, you could end up dead. Followed by the orientation, we signed agreements that if something goes wrong we cannot sue them and all the responsibility is on us. While handing over the signed agreements, we signed up our name to skydiving list.
There were 3 or 4 groups before our turn and everything was looking fine. We were soo exited. While people were jumping out of the plane, we had our training. Main things in skydiving training are:
I will try to explain these as much as I can remember: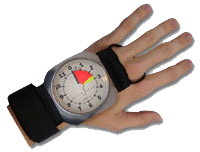 This device has different models. The one we used was like in the picture where you wear it through your fingers and it looked like a watch. It basically shows what your altitude is.
You need to keep your arms crossed and take the same steps as the instructor. After exiting the plane, the instructor will touch your shoulder to let you know that you can open up your arms and go into arch position.
You should keep your body in an arch position as seen in the photo. This is a very critical information for both instructor's and your life.
You will be exiting from the plane approximately at 14.000-14.500 fee (4.2-4.4 km) and it will take around 45-60 seconds to get to 5.000 feet (1.5 km). 5.000 feet is the altitude you should deploy your canopy for a safe landing. You will be using your altimeter to check the altitude during skydiving. Like most of the first time skydivers, I also forgot about the altitude even though the instructor tried to hold it right on my face. I realized it in the very last second when he dragged my hand to pull the ripcord.
Before landing, the instructor will let you know how you should keep your feet, if you should run or just stay put. If there's no wind you will probably keep your feet stick to each other and just land like that easily.
After this training, we were watching other people get on to the plane and jump at 14.000 feet. There were last 2 groups before us and we watched them get on, but they didn't jump as expected. Instead of jumping, they turned back in the plane. Ground crew realized something was wrong when they didn't jump and we were confused. One of the instructors opened the emergency door by mistake and the door fell somewhere in the woods. They had to turn back and we had to wait until they find the missing door. One small chopper helicopter was also in search of the door but there was no sign of it. Normally they were working with two planes but one of their pilot, the owner of the company, was on vacation. Other pilot didn't have license to fly with the other plane. In the mean time we were informed that they reached to the owner of the company and he was expected to be at the airport in an hour. We waited about 3-4 hours but the pilot didn't show up. We were supposed to be back in Wildwood before 5 pm so we asked them to refund our payments and turned back. After we chilled out a bit, we decided to call them next day and reappointed a new date for the following week.
On August 28th, 2012 we rented a car again and went to the same airport. The missing door was still missing and they ordered a new one but the other plane was working. Since we had the training a week before we only arranged who will jump with whom. It was our turn and we were all ready to skydive. The plane was ascending very quickly. I was able to see the altitude from the altimeter. If you get on a regular plane and travel, you may not get so excited. But when you know you will be exiting the plane at 14.000 feet by jumping into the sky, you will definitely have a fluttery feeling in the stomach. Here take a moment to see how I was skydiving 🙂
Yorumlar
yorum